Love, Grief, and "The Golden Bachelor"
Nov 19, 2023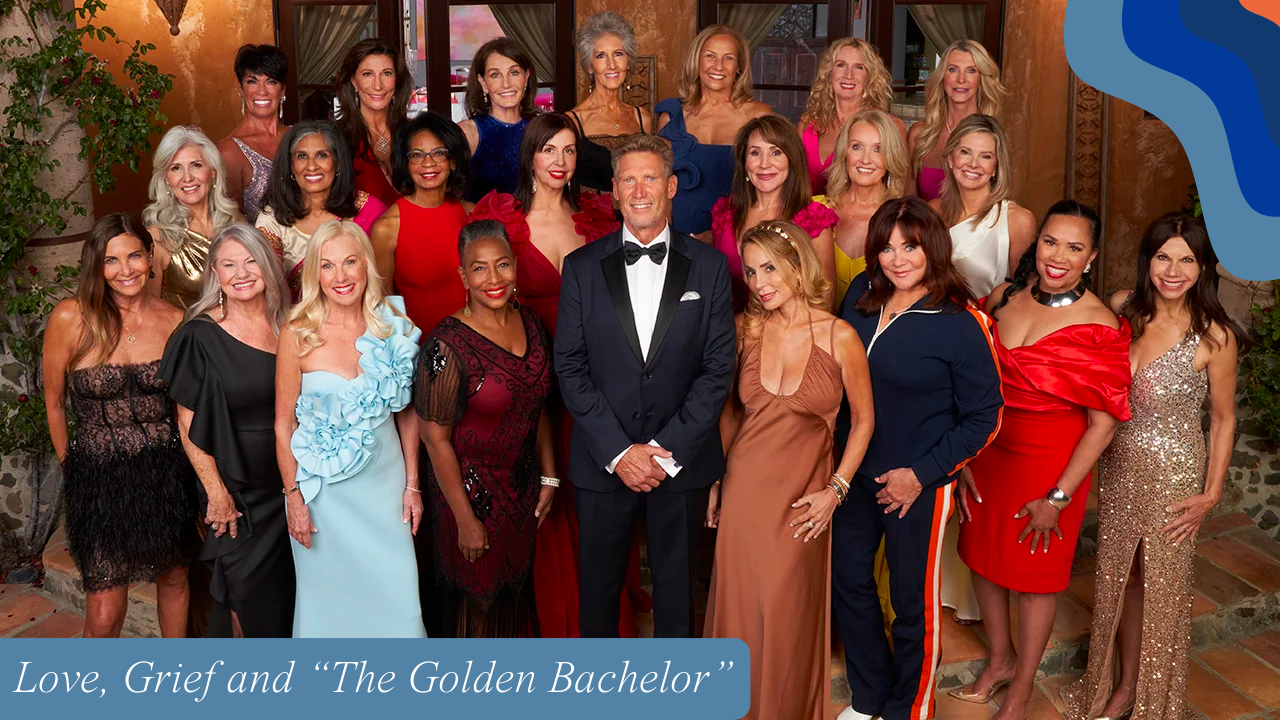 This blog was written by Grieve Leave social media lead, Tori.
Admit it: "The 'Golden Bachelor'" hitting us right in the feels was the last thing we anticipated when we first learned about this twist on the franchise. But then, along came Gerry, a 72-year-old widower, on a quest for love, and everything changed. If you've found yourself reaching for the tissue box during "The 'Golden Bachelor'," you're not alone. This show isn't just about finding love; it's about navigating the complexities of aging, grief, and the human experience.
And, before you worry, no spoilers here. The last episode's emotional rollercoaster was a ride we couldn't even bring ourselves to get on. We're in the dark about who got the final rose, but honestly, this show is much more than that. So, let's talk about it.
Grief at the Forefront
Gerry is at the heart of this series. He's not just looking for a fling; he's on a genuine journey for love after losing his high school sweetheart and wife of over forty years, Toni. When he opens up about the grief he felt after Toni's passing, I think we all shed a tear.
"No one's ever gonna replace Toni, but the love of my daughters and my granddaughters pulled me out of a dark spot."
Suddenly, the show isn't just about rose ceremonies; it's about life, loss, and the grief surrounding the journey of seeking happiness again. We feel for Gerry, but it may make us think about our own parents or grandparents. Just like Gerry, they might be longing for love again as they get older and wrestling with the grief it brings.
Although talking about grief has become a bit less taboo nowadays, our older generations still grapple with finding the comfort to openly discuss and recognize their feelings of loss. We don't often hear our parents or grandparents openly expressing how lonely they might feel or how much they miss having a person after their spouse has passed away. This hesitancy stems from growing up in an era when those kinds of conversations were frowned upon.
So, when we see Gerry laying bare his grief, it triggers a reflection on our own families. The show becomes a bridge between generations, helping us understand that, just like Gerry, our older family members might be silently carrying the weight of grief.
Now, it's not just Gerry on this journey; there are 22 women hoping for love. As we see these women pouring their hearts out, all hoping for their "last shot at love," that collective grief gets HEAVY. We know Gerry's outcome—he will find a winner and his shot at love. But we are aware that's not the case for all these women.
We're witnessing 21 other women facing heartbreak. Unlike the younger contestants on the typical Bachelor show, these older women may not have the same endless opportunities for love after the show. The shared grief becomes even more palpable as we recognize the unique journey they're on, adding an extra layer of emotion to each one of their stories.
Grief as a Shared Human Experience
So, what is it about this show that has us grabbing for the Kleenex each week? It's grief– a common thread woven into all our lives, whether from losing a parent, friend, partner, or even a dream. It connects us. Watching Gerry stirs up thoughts about the grief our parents may one day face as they age or are currently facing. For ourselves too, Gerry's journey represents the grief we may encounter in our own golden years (i.e. anticipatory grief).
Ultimately, "The 'Golden Bachelor'" explores the human experience through love, loss, and second chances. It gives us a space to reflect on the very often unspoken struggles we all face. So if this show was harder to watch than a usual reality show, know you aren't alone in those feelings.
Join the Grieve Leave movement
Share your info to join our Grieve Leave community. You don't want to miss anything!